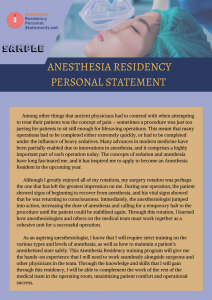 To get you matched, residency directors want to know; why you are drawn to anesthesia as a specialty. They want to know if you did fit into their team, your long-term plans and so on. An anesthesia residency personal statement should be able to provide answers to these and more. The directors are seeking information not already stated in your CV. They want something peculiar to each candidate that can make them unique.
The educational qualification is important no doubt, but something differentiating would be helpful, since lots of applicants are usually impressive in their academic performances.
A personal statement should be interesting and convincing enough. There are strategies a candidate can choose from. It could come from the angle of the kind of professional you intend to be, why you like the specialty or even some captivating stories of your experiences. Writing an anesthesiology residency personal statement does not necessarily have to follow a strict method; just ensure that your personal statement is well organized and very importantly, personal, as the name suggests.
Documents Required for Anesthesiology Residency Admission
Usually, all documents are to be submitted through the Electronic Residency Application Service (ERAS®). The required documents include:
Completed ERAS

®

Application

Personal statement

Medical School transcript

ECFMG

®

certificate (if applicable)

USMLE

®

Transcript (the first-time pass is required)

Citizenship/Visa Status

3 letters of recommendation
What Role Your Anesthesiology Residency Personal Statement Can Play In Your Admission
Being one of the key piece of document to be examined by the residency directors, your anesthesiology residency personal statement should first and foremost be relevant to the specialty and must be flawless. It should encapsulate motivations for choosing the residency programs, aspirations, relevant experiences, qualities, skills, characters/personality, philosophy and any other information relevant to the residency program. These are great determiners of your being matched.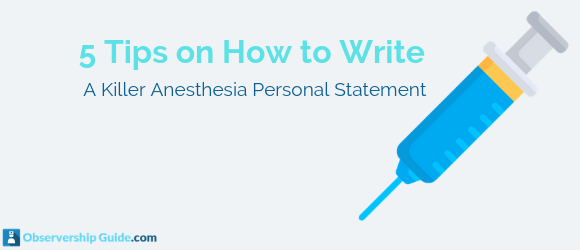 5 Tips on How to Write A Killer Anesthesia Personal Statement to Guarantee You Are Matched
Be specific
Ensure that you do not generalize, be specific on the residency program you are applying for; anesthesia personal statement. Make sure it is stated early in your essay.
Be thematic in your organization
Since your personal statement answers questions, do not use the chronological order. Be thematic so that the committee can see at a glance your main ideas. Try to dedicate a paragraph or two to each theme.
Make it as personal as possible
Talk about your beliefs, interests, distinguishing qualities, outstanding skills, and experiences.
Avoid common mistakes
Don't include irrelevancies such as the factors that propelled your choice of the specialty, irrelevant stories from your previous training and other information that will raise questions as to whether you are really fit for the program.
Originality
Be as original as possible. It is safer to write your anesthesiology residency personal statement in a way that will not show homogeneity. There is plagiarism software being used by ERAS® to ascertain the originality of essay content. Write on things that pertain to you as a person.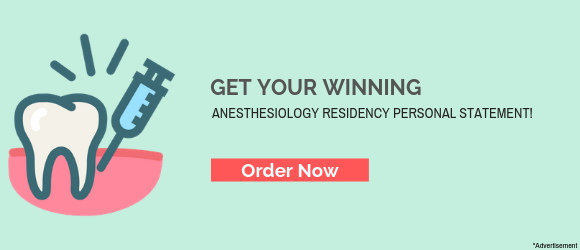 Clichés You Should Avoid When Writing Anesthesia Residency Personal Statement
To be as authentic as possible, avoid these common clichés associated with lots of anesthesia residency personal statement out there:
I wanted to be anesthetists since so and so age

Why medicine or anesthesia- translate this into something more specific

Quotations. It's a personal statement. Your voice should be paramount, not someone else's. Because others are doing it does not mean you should follow suit.

The frequent use of the word 'passion'; use less of this or possibly replace with a synonym.

Others include phrases such as; Think outside the box, take it to the next level, Think outside the box, Paradigm shift, Going forward, 800-pound gorilla and so on.
The anesthesia residency personal statement should focus more on the writer and less of others, even if they have been a source of inspiration to you in time past. Also, a strong closing statement can give you an edge over other applicants.
Don't wait up and start writing your anesthesia residency personal statement right away!